Being in Dubai, it's worth to consider visiting also neighboring country – Oman. It is second largest country of Arabian Peninsula and it has plenty to offer. It has 1700 km of the coast line. We want to visit much more there, but for the first trip we decided to go to Musandam. There are plenty of travel agencies offering the package including transport from Dubai. You can choose between two locations for Musandam Dhow Cruises Dibba and Khasab. I have decided to go to Khasab. It's further north and as per other relations in internet, it's very attractive.
We have been picked up at 6.20 from Dubai. Depending on your location in Dubai it can be 6 or 7 am. It's nearly 200 km to go and the tour participants are picked up from different locations/hotels in Dubai. It takes also some time to cross the border in Oman. The driver was driving with the same helly speed as most local drivers. About 9 o'clock we have reached the border with Sultanate of Oman. The cost of crossing the border is: 70 AED for exiting UAE and 50 AED for Oman tourist visa (valid for 10 days).
When you get to Oman, the road is very picturesque. It was built just on the edge of the seashore. On few occasions road climbs high into the Hajar Mountains where you can see magnificent views of the Arabian Golf. From this point it's very close to Iran, only 60 km by sea. It's worst hidden secret of locals, there is big trading (smuggling) between Iran and Oman/UAE, but only "accepted" by law items. As per local tour guide from Iran the smugglers they bring often spices like saffron. From Oman they carry back on their ships to Iran, mostly TVs and other new technology equipment.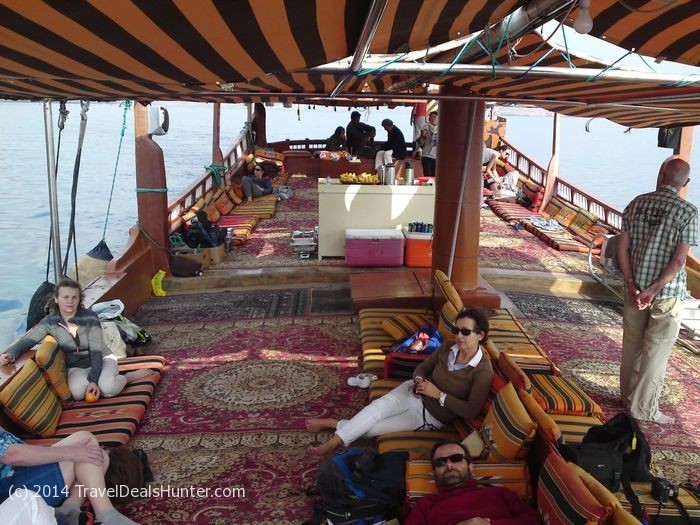 We have reached Khasab port at 10:00 and straight we have been embarked on the big and comfortable traditional local wooden boat called Dhow (pronounce: dow). There were three staff looking after the tourists: guide, boat steersman and general assistant.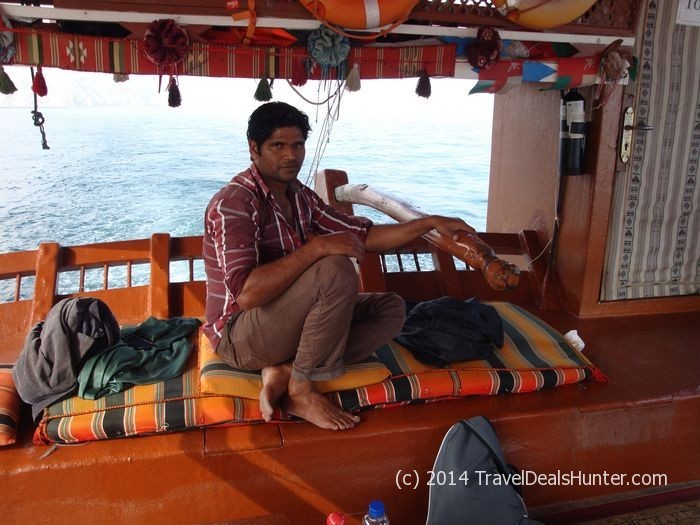 There were tourists from France, Japan, Scotland, Germany and Poland on our boat. After only few minutes the boat departed. Shortly after we have reached open waters and maybe after 10-15 minutes we have entered to the longest and biggest Khasab fjord. There are really majestic and spectacular views during the cruise. There are still 5 local villages settled on the coastline of the fjord.
They live from fishing and in total there is few hundred inhabitants. Government of Oman provides free drinkable water on daily basis and free electricity for them hoping to preserve local communities. Our first stop for swimming was Telegraph Island, where British during their short stay in region laid underwater communication cable. It was active only between 1864 and 1869. There are still remains of the repeater station and operators' quarters on the island. After the break we were heading further into the fjord. Suddenly we have been joined by the dolphins.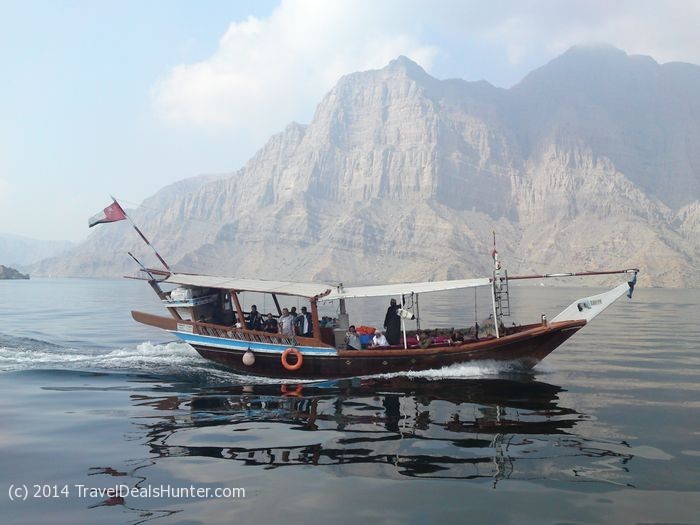 Between our dhow and another, the dolphins were showing off their skills. They were jumping out off the water and sometimes even swimming upside down under water what we could follow from very short distance. The tourists were cheering, whistling and clapping hands. The dolphins enjoyed encounter it as much as we did. Apparently during 99% of the cruises there is possibility to see the dolphins in their natural environment. There are probably three hundred of them living currently in the fjord.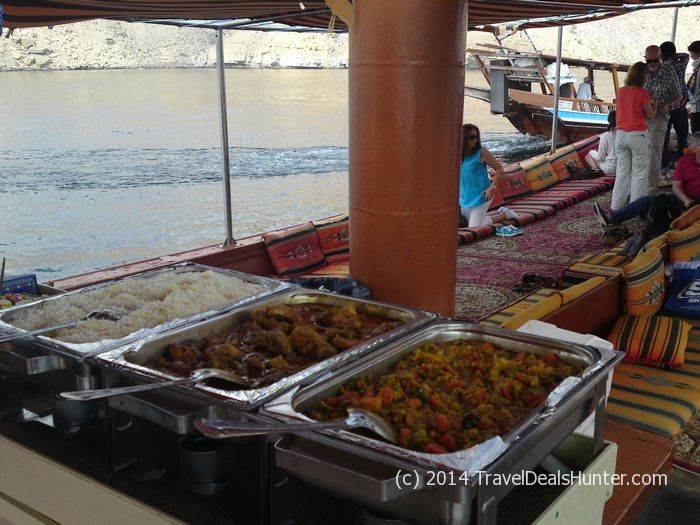 Afterwards we had nice local lunch (chicken curry, chickpeas, rice, salad, hummus and Arabic bread. There were also soft drinks, fruits like bananas, oranges and apples throughout the whole cruise. You can also taste and drink as much as you want of Arabic tea and coffee.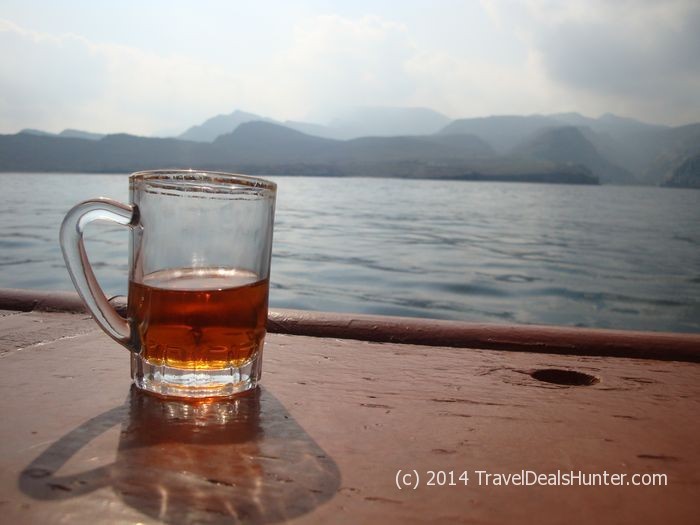 Having reached the farthest part of the fjord, there was another swimming stop next to Seebi Island. There is snorkeling equipment available on most of the dhows, but we had ours. The water is nice and clean. When snorkeling closer to the shore, you can see colorful fish and magic underwater creatures. Even now in January the temperature of water is around 20-21°C. You can swim here all year round. After the break the boat was heading back to Khasab. We stopped only for few minutes to see one more village. We returned to Khasab 15:30. Our mini buses were waiting for tourists. We got on ours and arrived back to Dubai about 18:30. Part of the tourists bought the package with one night in Khasab hotel. I think this is good idea to stay they longer. On this occasion we had unfortunately to come back.
The only minus is occasionally dropped litter in the waters of fjord. This is heartbreaking experience when you see such beauty being destroyed by reckless people. There is need of education of locals and tourists to behave properly and don't litter. Especially locals and government need to look after preserving this beautiful piece of land.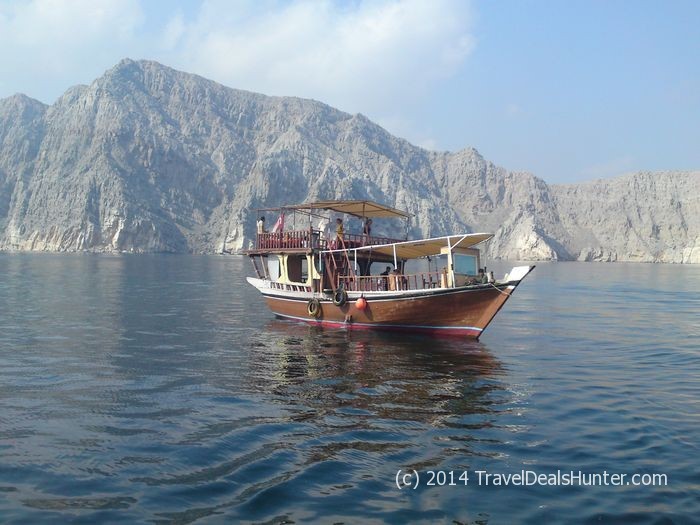 Normally when you buy a package tour to Musandam there are following services included: pick up from your hotel/residence, both ways transfer by air-condition cars or minibus, full day dhow cruise, lunch on board, snorkeling equipment. Some operators/agents does some don't include cost of the visa in the offer, so make sure how much you will pay extra on the border.
We have chosen Khasab Tours and I do recommend their services. The day before the tour the details have been reconfirmed over the phone. The driver was on time and all attractions advertised have been fulfilled. I decided to go with Khasab Tours because they are based in Khasab and they rates included also the costs of the visas (on 1st Feb 2014 the one day package from Dubai costs 550 AED including visas). You can find their all packages on the website www.khasabtours.com. They have office in Dubai so you can contact them easily.
We have done the tour on 31 January 2014.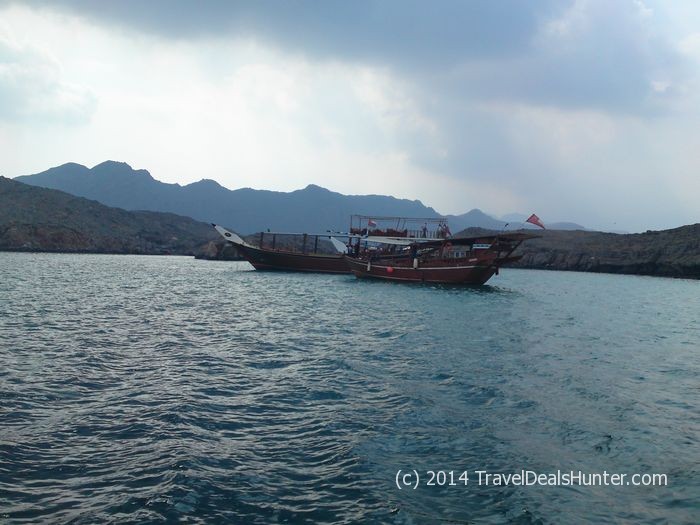 KHASAB TOURIST ATTRACTIONS
CHECK RATES FOR KHASAB HOTELS